Types of Kitchen Faucets
Slowly scroll down the page, and you will have a clear idea about the different Types of kitchen faucets. We have designed the article in such a way that it is easy to understand the different types and the basis of the classification.
Another big thing to remember is that some of the basis for the classification might be totally irrelevant to you. But that will be useful for some other homeowners. So please skip the part you don't need and move on to the next set of styles.
We tried to reduce the overlapping of features of different faucet types as much as we could to make the distinctions as clear as possible.
Classification Based on Handles and Activation Systems
Here, we are basically defining the faucets based on how you activate the water stream. It could be manual or automated. Automated faucets use control boxes and electronic valves to give you a premium and more hygienic experience.
It should also be mentioned that some experts like to divide the faucets based on the number of handles. That would be-
Single handle faucet
Double handle faucet
But they are too obvious to include in this list. Because you can already understand the difference. Single handle faucets will take less space and cost while double handle faucets will give you more security and efficiency.
We are rather dividing the faucets based on their handle mechanism and the level of automation. Here are their details.
It is a washerless faucet. They can be identified by the rounded ball-shaped cap right above the base of the faucet spot over which they freely move around to control the water stream.
Generally, they come with a single handle. Inside the structure, you will find chamber and slots that are protected by O-rings and spring-loaded rubber seals.
Disc faucets mostly have a cylindrical body. Over that body, you will see a single lever. Inside the body, you will have a pressure balance cartridge that mixes hot and cold water. To control the flow of the water, there are two ceramic discs at the bottom of the chamber.
These faucets are high quality and very reliable. Moreover, you don't have to repair them very often.
Compression washer faucet
Compression faucets are a little older version of kitchen faucets. They have turnable handles. You have to tighten or untighten the faucet to control the speed and activation of the faucet.
They have stem assemblies for each handle. These stems sit over the faucets valve seat. Closing the faucet will drive the stem assembly down to seal the opening and cut off the water supply.
Although cartridge faucets look almost like compression washer faucets, their feel is completely different. Cartridge faucets are much smoother and consistent. They are generally two-handed.
Touchless
A lot of people also call the touchless faucets to be motion sensor faucets. But that is not an accurate name for the style. Because there could be sensors other than motion sensors.
Touchless faucets can have the following sensors in them-
Infrared detectors
Eco sensors
Motion detectors
They generally have a solenoid valve in their control box that electronically controls their water supply. You can either use a wall outlet or batteries. There is a lot about how a touchless kitchen faucet works, but we will not get to the details.
Ei title e ekta article lekha disilam. Shetar ekta link kore dite paren ekhane. Reader er anek shubidha hobe.
Touch on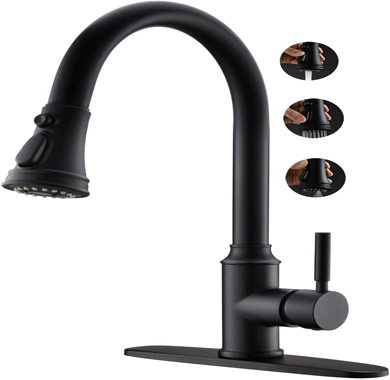 Don't confuse touchless with the touch on. However, the only difference is that you have to touch the sensor of the faucet. Generally, it is at the top of the bar sink faucet. This touch sensor is almost like the touch screen on your mobile. But a little basic.
Classification Based on Mounting Methods
This section might seem a little unimportant at first, but you will get to know their importance if you want to DIY your faucet. If you are not consulting with a professional plumber, you will need to read this. Otherwise, you could end up purchasing the wrong faucet for your kitchen.
The differences here are primarily made on mounting differences. The rest of the details are following-
Deck-mounted faucets are precisely what they sound link. They sit on the deck of your kitchen. These are the most common types of faucet based on mounting positions. The number of holes in your deck is a very important factor because that determines the type of faucet you will be getting. You can have the following numbers of holes-
Single-hole
Double hole
Three-hole
Four hole
Single and double holes are most common. They are for the faucet and sprayer. However, if you have more holes, you may also add in other types of extensions of the faucet such as soap dispensers.
Again, it is what exactly what it sounds like. Some home has faucet hole setups on their kitchen walls. Those are called wall-mounted faucets. Not all faucets are designed to be wall-mounted. So you have to be careful when choosing your faucet.
Some faucets decks have a more considerable distance than others. In that case, you will need a wider faucet if you are choosing one with a deck plate. However, the ones that don't have any deck plate will not be of any consideration regarding this particular variation.
These faucets are also known as double-hole faucets. These faucets need three-hole and have two handles. The two handles separately control cold and hot water. It reduces the confusion of hot and cold water.
Here are the styles of faucets that are not bound to a particular base. They are some of the most renowned and are differentiated by their distinct features.
Pulldown faucets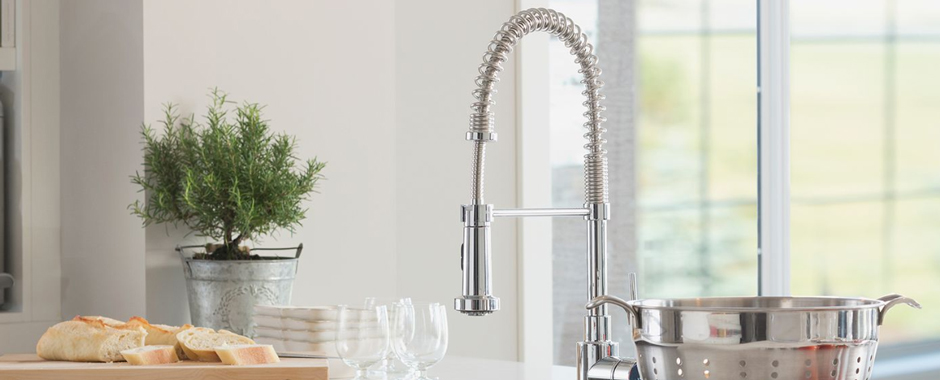 Pull down faucets have a large gooseneck spout, and the head of the faucet comes out from the spout. A hose is inside the spout, which can be pulled out for more flexibility in washing. It has some kind of locking mechanism that locks the head with the spout.
Pullout faucets
Pull out faucets are slightly different from pulldown faucets in the sense that it is far more flexible, and the pullout spout has no spout covering. It is used in more professional kitchens. 
These faucets are generally used in commercial kitchens and occupy all the features you can ever ask from a kitchen faucet. They generally larger and have a longer pullout hose. These faucets can handle higher water volume and have many spray functions. Their accessories give your kitchen a professional feel.
This is identical to one of those pot fillers that you see in big restaurants. They have a longer reach and are able to fill large sinks and pots. These faucets are also very flexible.
Faucets with water filter
There are some faucets that have a built-in water filter. You can directly drink the water from those taps. But these could also be a little fat in size.
Basin taps are a good alternative to expensive faucets. Instead of two handles, this type has a single handle and a faucet. With this faucet, you will be able to control and mix your hot and cold water.
Some Dedicated Classes
Here are some of the faucets that are designed to do a particular function. A lot of people like to call them different faucet types. But I see them as extensions of the main faucet.

It is simply a faucet that is dedicated to cold water. Generally, cold water dispensers will be aside from the main faucet. While the main faucet will give you unregulated water, the dispenser will provide you with cold water.

This is just like the cold water dispenser. But instead of cold water, it provides you with hot water.

These are built-in soap dispensers on your deck. This can be considered as an extension of your main faucet. But as this operates independently and can also be bought separately, we are classifying it as a separate faucet.
Everyone knows what it does. It helps you clean your dishes by always being prepared to supply you with soap and detergents. A pretty handy feature if you have a big family.

This is another faucet that is almost an accessories. But as it can function on its own, we are considering it as a separate faucet dedicated to a single task. These are convenient for cleaning and other purposes.

It should be noted that we can make more categories of faucet based on finishes, structure, and many other features. But we won't as that would be too lame even for a faucet blog.
Yes, I know it is boring, but I still love to talk about them. Now, before I start to bring out Different Types of Kitchen Faucets, you better scroll up to read the existing ones.
LAST UPDATED ON 28 APR 2020