[amazon table="3951″]
When you want to buy a faucet for your kitchen, you must choose a trustworthy company to get a quality product and on whom you can believe for better services.
There are varieties of Faucet Company available in the plumbing market, and all of them offer their product with attractive advertising. So, it's very difficult to find the 'best' one that fits your demand.
However, Moen and Delta are two behemoths of the market that are always at the forefront of kitchen technology. They have the best brand value and reputation in the market.
But which one is the best.
In this article, we will try to find the answer for you. We will pit these two famous brands against each other and make some useful comparison of their features.
So, Moen or Delta? Which one is the best?
Stay tuned to know!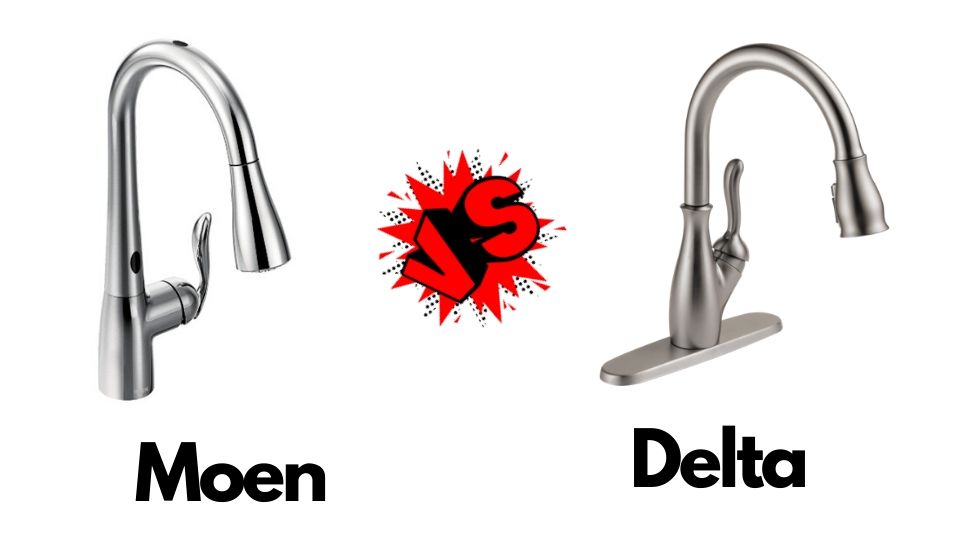 Types and Features
Both of these companies manufacture various types of faucets with beautiful finish's and designs. Let's get to know them closely.
Moen
Generally, Moen focuses on the commercial faucet market to enhance their business and mainly produce commercial type faucets.
Also, Moen makes pull down and pull out faucets. Its pull-down faucet comes with a reflex system that helps you to operate it effectively. But the major style of faucet developed by Moen is the touchless faucet that is made with Motionsense technology.
Besides, Moen includes various power spray pattern system styles in their faucet, like- power cleaner spray design and boosted Streams.
Delta
Just like Moen, Delta is also popular for some extraordinary designs of faucets they developed. Delta is famous for its pull-down faucets that has a magnetic system.
They also invent touch kitchen faucets with Touch2O technology instead of motion sensors, which is very popular in the plumbing market.
In our following sections of the article, we will compile details about these two brands' types and highlights.
Advanced Touchless Technology
In the time of the modern era, people are focused on making their lives easier. Touchless technology is one of those extraordinary inventions in the plumbing world. And in our today's life, undoubtedly, this amazing tech has a great impact.
Moen and Delta, both Companies, use touchless Technology to develop their faucets. A touchless faucet is a great appliance for your kitchen that has the motion sensor to operate the water flow without your hand.
That means you can open or close the water flow just by waving your hand or moving the pans or dishes at the front of the faucet sensor. You don't need to use your hands anymore to operate a touchless kitchen faucet. This special faucet improves the quality of your kitchen and is also equally hygienic for public places.
Hands-free faucets creating values across the plumbing world by its easy to use facility and long lasting features. According to the public demand, Moen, and Delta, both Brands introduce touchless faucets in the market but by applying different methods.
Moen
Moen Company uses Motionsense Technology to manufacture its pull-down touchless kitchen faucets. In this technology, the sensor comes with the faucet to operate it without the touch of hands. Some of Moen kitchen faucet model comes with only one sensor, and some have two.
If the faucet has more than one sensor, you will find one in the top of the faucet spout, and another is at the faucet base. To use a Touchless kitchen faucet, you only need to wave your hand or move any other things at the front of the faucet sensor to run the water flow.
But we must mention here the name of one of the Greatest Moen products in the faucet world that developed with Touchless technology. That is U By Moen Smart Faucet. Users can operate this amazing faucet in four ways. You can open or close the water flow of this faucet by wave sensor, voice control, remote controlling, smartphone app, or traditional manual system.
Also, U helps you to control the water temperature of the faucet by voice command.
Delta
Just like Moen, Delta also introduces consumers with touchless technology, but differently.
They manufactured their pull-down faucets with Touch2O technology, but these types of faucets don't have any motion sensors. Now the question can arise, how can users run the water flow without holding the faucet handle? The answer is, you only need to touch anywhere on the faucet to operate it.
So, just tap the faucet body by any part of your hand to run the water flow and you don't need to hold the handle of the faucet with your hand.
And you can also purchase a fully autonomous touchless faucet from the manufacturer. Delta also manufactures Touch2O kitchen faucet with built-in motion sensors. It's completely touchless, and you can use it by just only waving the hand.
Spray Technology
Without a good spray pattern, your faucet is useless, doesn't matter whatever brand it is. Spray pattern technology is a very crucial thing to consider for a kitchen faucet. Because a faucet with an effective spray pattern helps you do your cleaning work more comfortably and you will be able to do a lot of work within a short time.
Fortunately, both Moen and Delta kitchen faucet comes with useful water spray technology for their customers. Both companies are famous for their effective spray pattern system.
Moen
Moen equips its faucets with power cleaner technology. This unique power cleaner system provides an efficient spray pattern with the faucet. This sprayer creates more than 50% powerful water spray compare to other faucets during your cleaning work. It's awesome, isn't it!
This special Moen sprayer can also make sufficient water splash that is very helpful when you want to clean deeply dirty dishes or pans.
Delta
Delta generally uses Shield spray technology for its faucet sprayer system. It is also a well known and effective sprayer system and helps you to do your cleaning task with ease.
Especially when you want to clean the sticky, stubborn mess from your pans with a powerful water stream like a jet, Delta Shield spray pattern is a good option. Besides, shield spray also makes a protective circle around the water stream to defend splatter.
Finish
The finishing of any kitchen appliance is very important. And it's also true for your kitchen faucet. A bad finish faucet can ruin your kitchen style, doesn't matter what amount you spent on it.
Moen and Delta, both Company, introduced their faucet in the market with gorgeous style and perfect finish. When you compare these both with the other brands, you will definitely see some major quality differences in style and finishes.
Moen and Delta faucet usually use three of the most standard finishes – Oil-rubbed bronze, Matte Black and Chrome. Both brands also use some unique stain or spot resistance technology.
Here we will compare the finishes of both brands.
Moen
Moen faucets are famous in the market for its great finish and design. Moen usually uses Oil-rubbed bronze, Matte Black and Chrome finishes in their product like other brands.
But except these traditional processes of finishes, Moen also uses a great finish called Spot Resist.
Spot Resist uses stainless and brushed nickel for coating the faucet. Spot Resist works like its name, prevents your faucet from any fingerprints and spots.
It's almost guaranteed that the faucet coated with the Spot Resist layer is secured from any watermarks and spots. It keeps your faucet new and shining like the day you purchased it.
Delta
On the other hand, Delta introduced in the market high-quality faucets with stain and spot free finishes.
One of the best finishes used by Delta is 'Brilliance finish'. Brilliance finish technology ensures top class finish quality of the faucet and prevents faucet from rusting and discoloring.
Also, Delta uses SpotShield finishing technology to manufacture its commercial faucets. Spotshield finish prevents the faucet from scratch and keeps free the faucet body from any fingerprints and water spots.
Price Range
The price range is the most important issue for any customers when they decide to buy a product. Most of us want to buy appliances for our kitchen, which is in our budget. It's true that choosing a good quality faucet for kitchen uses in a fixed budget is a bit challenging.
But the good news is, Moen and Delta, both brands manufactured faucets with verities of choices for their customers within any price range. Generally, you can get Moen or Delta faucet within the range of $50 to $1000.
Depending on design and features, the price will be higher or lower. So, it's not true that lower price faucet is also lower in quality. But Delta faucet is slightly cheaper than Moen, but they don't compromise with quality. 
Customer service
There is nothing much to say here. Both of these brands have built their reputation with excellent customer satisfaction. They are always keen to help their customers. And their call centers always have experts to guide you to your destination.
However, I personally liked Moen's design of the customer service process. a lot of it is pretty easy to understand. Their products and parts have specific numbers which you can search in their website and order for home delivery.
On the other hand Delta steals the spot for instruction manuals. They made it so easy to DIY the faucets.
But I would decide a clear winner here.
Warranty
You already know what a warranty is. And it is very important when it comes to kitchen appliances.
Moen and Delta both should be declare as the 'best'. Because both of the Companies offer long time warranties with excellent customer support. You will get a minimum of 6 to 7 years warranty after buying both Moen and Delta faucets.
But the warranty of these companies varies depending on the purpose you are using it for. If you use the faucet for your kitchen, then you will get normally 6 to 7 years warranty. But if you buy it for commercial purposes, you will not get the warranty more than 5 years.
Final Thoughts
At last, we must come to this verdict that Moen and delta both companies are eligible as a top brand of the market by comparing all of their features.
Both brands have massive similarities in their features without some minor differences and provide almost the same quality products for consumers. So, it's very hard to declare one as a champion between these two.
So, read our comparison very well and make a perfect buying decision between Moen or Delta. Good luck!