Many people struggle with their faucet when it's time to remove it and replace it with a new one. Faucets are designed to last longer but it doesn't mean that they'll last forever. When you're using a faucet and it gets old over time. In such a case, you may think of replacing it.
When it comes down to replacing your old faucet, you need to remove it. Most of the faucet users avoid everything and call a plumber to get that job done. But when you can't afford a plumber, you gotta do that job on your own. The problem is, this job requires a lot of modern tools including a basin wrench.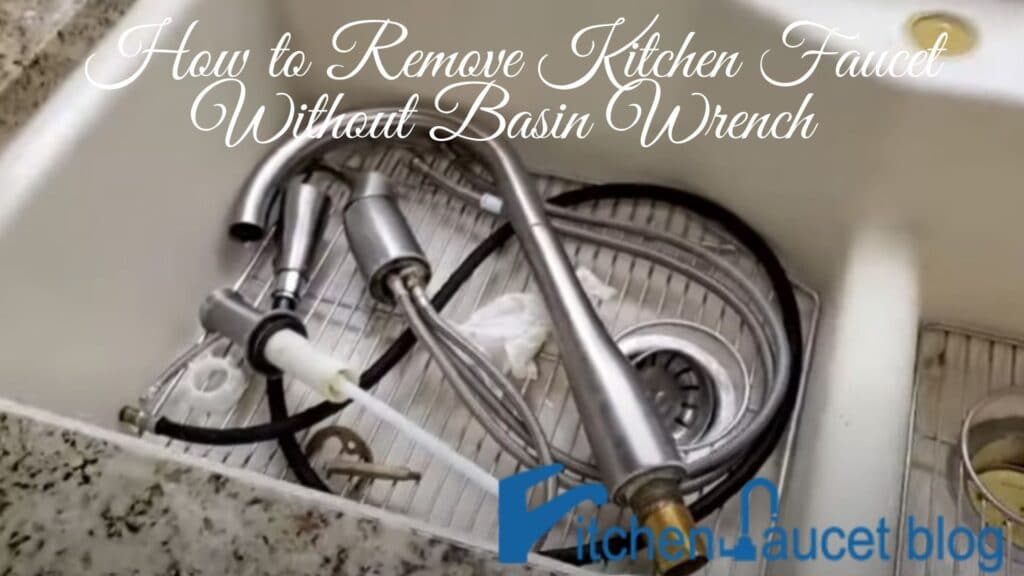 What is a basin wrench?
Basically, local people call it a sink wrench but the name goes basin wrench. It's a plumbing tool that is made to loosen or tighten nuts and bolts that are located in places pretty hard to reach. To do this, basin wrenches have a jaw locker that locks up with the nut according to your adjustment and settings. It comes up with a long shaft with different wrench settings.
This shaft is attached to a handle that helps you to turn your wrench and tighten or loosen the nuts. Basin wrenches are made with high-quality metal material to ensure longevity and toughness. For faucet removal, a basin wrench is essential.
The problem occurs when you're a regular guy and you don't have a basin wrench available at home. What are you going to do when you don't have a basin wrench and you want to remove your old faucet and replace it with a new one? Well, you've come to the right place.
In this article, we're going to show you how to remove a kitchen faucet without a basin wrench and how to set it up as well. You can go on without the basin wrench but you have to make sure that you have a regular wrench and other essential tools ready.
What you need to perform
The very first thing you need to do is a quick clean-up of your kitchen and especially the sink and faucet. For replacing you need to clean it first. Some of the faucets tend to stick right there because of deposits and rusts. You need to clean it and apply some grease or penetrating oil if required.
Besides, don't forget to make sure that you have your new faucet ready to be mounted. There are plenty of faucets available on the market. Grab one that suits your needs and requirements. You don't have to buy extra tools or some other things to replace them.
When you don't have a basin wrench available at home, make sure you have a socket wrench. Besides, don't forget to keep channel lock pliers nearby and a screwdriver as well. You might also need a ratchet spanner.
Keep a bucket and a towel nearby to store water and prevent your kitchen from getting too messy. When you have everything ready and in hand, you can start.
Procedures of removing a kitchen faucet without a basin wrench
Step 1:
When you're willing to remove your old faucet you need to turn off the water supply first. It's important that you turn off both cold and hot water supply lines. The water supply valves are located under the sink.
Now, when you detach the hoses from the supply lines, make sure that you have a bucket beneath. It'll store water that's remaining in the line or the hose. If you avoid this, you might end up flooding your kitchen as well. Draining is too much important.
Step 2:
Open the spigot and release the air pressure that's left inside. When you made sure that there's no water in the valves, there are chances that it might still hold some air pressure inside of it. This water may create certain issues while detaching.
Open the spigot and leave it there doing nothing just for a few minutes to get the air out. When the pressure is released, removing it will be easier and comfortable.
Step 3:
Detaching the faucet from the water line requires pump pliers. Water lines are basically connected to the faucet directly and you have to cut off those lines. In this case, you need water pump pliers.
Other tools will also work but we recommend you to use the water pump pliers to detach the faucet. Using other tools that are not suitable is dangerous. Just fasten the pliers to the supply lines and pull both of them carefully.
You need to be a little cautious in this step. Perform everything gently and make sure you're making no damage to the supply lines and the faucet.
Step 4:
Remove the faucet and try removing the mounting nuts. Some of the new model faucets are attached with screws. In such a case, you need a screwdriver. Locating these nuts and screws is real easy and they're usually located under your kitchen sink. They hold the faucet tight and attach it to the sink.
You can loosen these nuts using your socket wrench. When your socket wrench can't reach these nuts, you can try loosening them with your hand. To do this you need to apply grease or penetrating oil first.
Step 5:
When everything is done, pull your faucet up and disconnect everything. Make sure everything is disconnected. Now, clean the top of your sink as you'll find some water deposits and debris there.
The removal process is easy without a basin wrench. But it's pretty impossible to remove your faucet if your socket wrench doesn't reach the mounting nut. Yes, you can try your hand, penetrating oils, but if it's stuck properly and it's quite stubborn, you can't remove it.
In that case, using a basin wrench is a must. Or else, you have to call a plumber for removing your old faucet from the kitchen sink.
FAQ (Frequently asked questions):
How much should a plumber charge to replace a kitchen faucet?
The charge for a plumber is approximately 100 $ to 150$. But we'll suggest you do this task by yourself. This will save you money and keep you busy for a while. Working for yourself feels good. doesn't it?
Is it difficult to install a kitchen faucet?
The answer is pretty simple. No, it isn't. installing a faucet is pretty easy. You just need to follow a few steps. For more direction please visit our website.
How long do kitchen faucets last?
Giving the answer is pretty tough but a good quality kitchen faucet should last 10-15 years if it's well manufactured and comes from a trustable brand. The longevity term depends on building material as well.
Conclusion
So, this is how to remove the kitchen faucet without a basin wrench. If you're struggling with your faucet and you don't have a basin wrench, you can follow this article. This will help you a little.
For more articles, visit our website. If you have any questions or queries, feel free to leave a comment here or contact us directly.