The name low divide kitchen sink is pretty self-explanatory. It is a sink with a low divider. This means that the divider is not as high as the counter or the top of the sink.
Now there is not much to know when it comes to low divide kitchen sinks. However, a few things can make a lot of difference if that is important to you. First of all, you have to be careful about a kitchen sink's generic things such as the material, size, finish, sound absorption, and other features. Next, the most important thing is to get the right brand.
So, let's take a look at the top kitchen sink brands that make the best low divide kitchen sinks-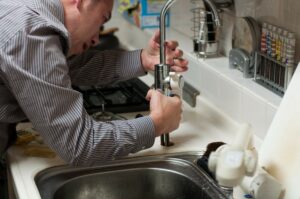 Best Low Divide Kitchen Sink Brands
Here are the top brands for low divide sinks
However, there are other famous as well as less known brands with some pretty great low dividers. But study a bit more before trusting those brands because they can be misleading. On the other hand, they will also provide you a far better price.
Other Things to Consider When Purchasing Your Low Divide Sink
Here are some things to consider-
Looks
Most of us have a mindset that low dividers are not supposed to look that good. But it doesn't have to be like that. Here are some examples of beautiful low divide kitchen sinks-
BLANCO, Metallic Gray 442202
Kraus Quarza Kitchen Sink
Whitehaven low divide kitchen sink
However, good looking sinks tend to be a little pricier. But there are cheaper options too.
Size
People often don't understand the size of the product from pictures. But you can't make those mistakes with the kitchen sink as that is too sensitive to the counter size. Every manufacture clearly states the size of their sink. Make sure you have measured that correctly and account for the extra plumbing for the double bowl.
Height of the divider
As you are looking for a lower divider, you should also check how low that is. The divider's height can be low, up to three or four inches from the sides of the sink. Too low or too high divider might not serve your purpose.
So, try to find that balance, which lets you clean large pots and also lets you fill up one side of the bowl for soaking purpose.
Noise absorption
Double bowl kitchen sinks tend to make a lot of noise. This problem is lesser with the low dividers. Nevertheless, you have to take great care of it. Make sure that the sink is layered with sound-absorbing materials. The extra padding also helps. It also protects your sink from unexpected hits.
Final Words
Low divide kitchen sinks are a fine detail in the kitchen supplies industry. There are a few consumers who care for their kitchen as you do. And there are a handful of passionate writers who will care for a low divider. But you have one here.