A defective burner might make trouble in cooking food and that's not a big problem to deal with. But a defective kitchen sink? It will turn your home into a gutter and clog your life instantly.
If you don't want that to happen, invest some more time to go through the reviews of the best 36 inch kitchen sinks and see how they change the entire functionality of your kitchen.
So that you don't get stuck to sinks we have shown here and choose your own, a complete buying guide will accompany you to the end. Let's flush all your old misconceptions about kitchen sinks.
Reviews of the Best 36 Inch Kitchen Sinks
Take a quick look at why you should or shouldn't choose these kitchen sinks. Hold tight.
1. Kraus KWF410-36 KORE Single Bowl Kitchen Sink
Key Features
Material: Stainless Steel
Size: 36 inches
Depth: 10 inches
Shape: Rectangular
Finish: Satin
Weight: 31.4 lbs
Dimensions: 36 x 20.25 x 10.5 inches
This is arguably the best 36 inch stainless steel sink available out there if you have less space in your kitchen. The single bowl sink has a depth of 10 inches that is enough to accommodate large dishes.
It's made of 16 gauge stainless steel with a satin finish that gives it the stunning look to blend with any kitchen. The coating also protects the sink from rusting.
The depth isn't the same everywhere. Its drain side is a bit sloped, half an inch to be exact, for water to drain efficiently.
Due to the sturdy build, it will almost never dent no matter how harshly you treat it. The single bowl design will save a lot of space but allow you to get all your utensils cleaned without much hustle.
A stainless steel grid is placed at the bottom of the sink for easy draining. This will also prevent the bottom surface of the sink from scratching or denting. Kraus sets the standard of how a stainless steel sink should be.
2. Ruvati Verona RVH9300 36" Single Bowl Kitchen Sink
Key Features
Material: Stainless Steel
Size: 36 inches
Depth: 10 inches
Shape: Rectangular
Finish: Brushed
Weight: 60 lbs
Dimensions: 22 x 36 x 10 inches
Ruvati makes some serious kitchen sinks. This single bowl model is one of the best 36 inch kitchen sink if not the best. It has the same depth as the previous sink.
But grooves are more prominent here for water to drain easier. The off-set drain opening is of standard size. Corners of this sink aren't completely square. Rather, they are a bit rounded so that you can clean them with less effort.
It fits so well in your kitchen and makes washing so smooth, you will fall for it very quickly. You get some essential accessories with the sink like a drying rack, colander, and basket strainer. No food waste will now go into the waste pipe and clog the sink.
Everything is so well-executed here that you need not worry at all once you bought this sink. The material and build quality are top notch. So, the performance and durability stay above any questions.
3. Sarlai 36 Inch Farmhouse Sink
Key Features
Material: Stainless Steel
Size: 36 inches
Depth: 10 inches
Shape: Rectangular
Finish: Brushed
Weight: 50.9 lbs
Dimensions: 22 x 36 x 10 inches
This is the best 36 inch undermount kitchen sink for contemporary kitchens. The matte black sink with a brushed finish will easily suit the modern vibe of your kitchen interior.
As an undermount kitchen, the top edges of the sink will be flush with the countertop. So, no waste will get stuck in the narrow holes which often happens in the case of top mount sinks.
This sink is made of 16-gauge stainless steel that will protect the sink from denting and rusting. Also, the apron front of the sink will add a bit of character to your kitchen.
Though it has a single bowl, it is large and deep enough to house bigger pots. The bottom surface is channeled diagonally for easy drainage of water. Everything hits the right spot in this sink.
It comes with a bunch of useful accessories that will make your time in the kitchen a lot easier. With a 3-month money-back guarantee, Sarlai is there to watch your back.
4. Mocoloo 36" Undermount Farmhouse Kitchen Sink
Key Features
Material: Stainless Steel
Size: 36 inches
Depth: 10 inches
Shape: Rectangular
Finish: Brushed
Weight: 48.8 lbs
Dimensions: 33.3 x 22.7 x 12.1 inches
This is a bit different in size from a regular 36 x 22 kitchen sink. The outer dimension of the sink is a bit bigger so you need that much cabinet space before you install this undermount sink.
But once you get it installed, it is sure to bring an extra shine to your kitchen. The material used here is top-notch. Like all other products we have selected today, it is built with 16-gauge steel that is quite heavy and durable.
It offers the same single bowl configuration as the previous products. Even the depth is the same. It has a standard drain opening and you get all the necessary accessories coming with the package.
A stainless steel grid will sit at the bottom to keep the bottom surface of the sink from scratching or denting and maintain faster drainage. There will be no chance of seepage that can damage your cabinet.
For smaller kitchens where you usually wash less but large pots regularly, this sink will be a great choice.
5. Kingsman ARL-F3619 36 Inch Undermount Kitchen Sink
Key Features
Material: Stainless Steel
Size: 36 inches
Depth: 10 inches
Shape: Rectangular
Finish: Brushed
Weight: 11.97 lbs
Dimensions: 19 x 36 x 10 inches
We'll end this pile of reviews with this lightweight kitchen sink that comes in a stunning brushed finish and is made of professional-grade stainless steel. So, it will easily get blended in any home or professional kitchen.
Unlike all other products on this list, this sink doesn't have any apron front. So, the front side might not look as good as the previously mentioned sinks. But at the same time, it will give the counter-front a cleaner look.
The length of this sink is the same as other products but the width is a bit smaller. So, you might face a hard time sinking large pots with long handles completely.
But the overall build quality is up to the standard. It even has pads for dampening the sound while using the sink. Though the bottom surface is grooved, sharp corners will be a bit difficult to wipe off.
Still, it has that charm of being fit in a modern kitchen with a dent and rust-resistant material. Give it a try.
Best 36 Inch Kitchen Sinks Buying Guide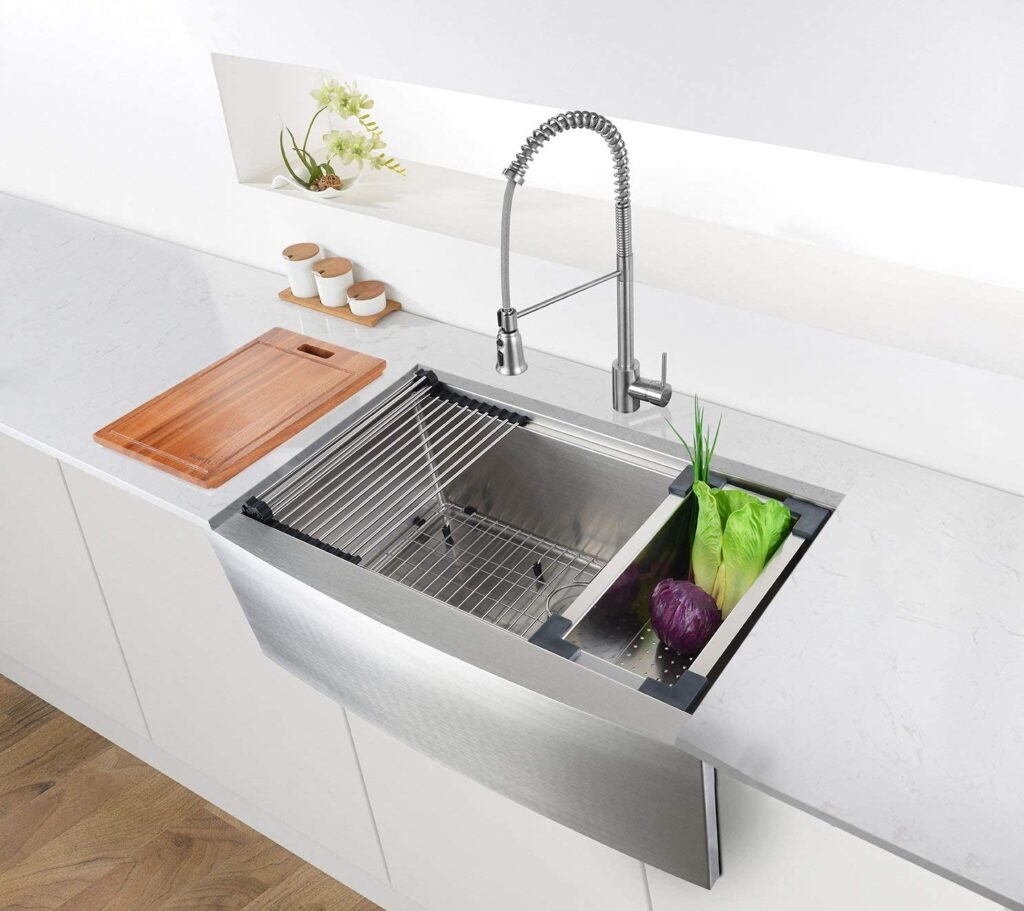 Why don't you take some more time to realize what's crucial in buying the best 36" kitchen sink? We promise to not bother you with common factors like a lot of other websites do. Here you go.
Material
When it comes to kitchen sinks, the material is the most important factor to consider. No matter what the style of the sink is, it should last for decades without getting any dents or scratches.
18-gauge steel sinks are simply good, but they aren't as sturdy and dent-resistant as 16-gauge steel sinks. So, make sure you are buying a sink that is made of 16-gauge steel.
14-gauge can be better but it will be unnecessarily heavy. You can also choose from materials like natural stone, granite composite, or fireclay, etc.
Topmount or Undermount?
It's pretty understandable from the name that top mount kitchen sinks are set up from the top of the counter where the edges of the sink lie on the countertop on both sides.
Undermount sinks are installed from the bottom of the cavity and usually cling to the bottom part of the counter. Topmount sinks are easy to install and replace. They also cost less.
Undermount sinks are a bit more difficult to install. You also need to spend more on them but they look really cool. It's easier to swipe waste into the sink easily in the case of undermount sinks.
Single or Double Bowl?
There are arguments about which one is the best. If you are up to washing small utensils and dishes on one side and rinse vegetables or fruits on the other, a double bowl sink will be perfect.
But double bowl sinks have less space in each compartment for washing large pots. It will be best if you incorporate a drain basket into a single bowl kitchen sink to get the best out of it.
Hole Count
Counting how many faucet holes are in the sink is essential. This will let you know which accessories you could use with the sink. For example, if there is only one hole, you will be able to use a faucet with a single lever.
But for versatile uses, you will need faucets with a mixer to work with hot and cold water. An extra hole will make soap dispensing easier. So, check for the number of holes according to your desire.
Sink Dimensions
In most cases, the width of the sink is 22 inches. Though you can take wider sinks, this size will fit almost any standard kitchen. Try to make sure the sink is at least 10 inches deep. A gentle reminder, undermount sinks are usually a bit deeper than top mount sinks.
FAQs
We have answered some of your most commonly asked questions about kitchen sinks. Check them out.
What should be the cabinet size for fitting a 36 inch kitchen sink?
You will need at least 39 inches of cabinet space to fit a 36 inch sink.
Which sink is more durable between stainless steel and porcelain?
Porcelain sinks usually last longer than stainless steel sinks. But you need to take proper care in that case. For general use with a lot of pressure, stainless steel sinks will be the best.
What is better between a single and double bowl sink?
A single bowl sink will take less space, so good for a small kitchen. A double bowl sink will offer more versatility.
Is granite sink better than stainless steel?
Granite sinks are tough and durable. They are less noisy than steel sinks. But granite sinks can be very pricy.
Are farmhouse sink and apron front sink the same?
They're almost the same with a bit of difference in their design languages and characteristic.
Final Thoughts
Models of sinks can go outdated, but the best 36 inch kitchen sinks will never let you down when it comes to making a space for cleaning. It is so close to your health that never let a sink enter your kitchen that you aren't comfortable with.
Emphasize the usability, drainage system, overall build quality, durability, functionality, look, etc. to get the sink you will love to work over. Let nothing else come in between you and a clean, healthy kitchen.