Touchless kitchen faucets are those that you don't need to touch to turn them on or off; you just need to place your hands underneath them to activate. They are a new arrival in many homes nowadays, as they are effortless to use and also attractive in design. For most of you guys, it might be a new experience.
These no-touch faucets are very stylish for which they can give your kitchen a very chic and techy appearance. But to maintain them properly, you also need to be a little updated. After installation, the first thing that might have crossed your mind is how to change their temperature.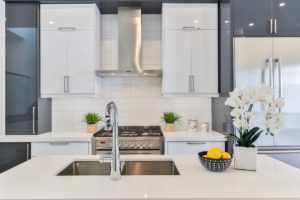 The Temperature Adjustment Process
Firstly, I should remind you that not all faucets have temperature adjustability. You first have to find out whether your model has the feature or not. There are many ways you can find out about that. But let's focus on the main topic now.
Adjusting the temperature is a straightforward task. It seems hard because you don't have the experience, and the information is not readily available. Once you know the trick, you would think, why you were so frustrated in the first place.
Generally, there will be a switching mechanism which allows you to adjust the temperature. It could be right in front of you or under the sink. Here are some possible places and the methods of using them.
Lever/Knob
There is a knob or lever attached to the side or the front of the faucet with a hot and cold marking on it. Just turn the lever left/right till the water comes out with your desired temperature.
Handle
Some faucets might use the handle as the temperature adjuster. Pull the handle outwards to change the temperature. You might have to turn the handle left or right in some cases.
When you reach your desired temperature, stop moving the handle, and keep it in that stance. As you pull out the handle, water will start running through the faucet, but you can stop the flow by moving your hands near the motion sensor.
Control Dial
If you didn't find any such lever or handle with your faucet, you might have to dive a bit deeper. Check out the under sink cabinet. There you will find a temperature control setup along with the power source of your faucet.
You will find a temperature adjusting the dial on the power setup with an indication of hot or cold on top. Move the dial left or right to get your desired water temperature. The dial will ensure to keep the water at the same temperature afterward.
Sensors
The latest motion sensor faucets use sensors to help you adjust the water temperature without having to touch it. In such cases, you will find a red-colored LED for hot water and a blue one for cold water on opposite sides of the spout.
You just need to move your hand near the red or the blue sensor to get water of your desired temperature in this case.
Pretty easy, right?
Doing it manually
The slightly older models might need you to access the water-control valves located underneath the sink. In this case, turn off the water supply source of the faucet first to avoid spillage. Then open up the underlying cabinet of the sink to expose the water-control valves.
You will see two valves or knob there. One is for warm water and the other for cold. Rotate the valves clockwise to turn them on and anti-clockwise to turn off. The balance between the two knobs to reach your desired temperature.
Then turn the water supply source back on. Open the faucet to check whether water is running properly through it with the correct temperature and pressure or not.
Top Touchless Kitchen Faucets
[amazon bestseller="touchless kitchen faucets" template="table"]
How to Find Out If My Touchless Faucet Has Temperature Adjustability
As we have mentioned before, not every touchless kitchen faucet has this capability. And if you have forgotten about yours, you can try the following easy methods to find out-
Lookup
This might be the simplest way. Every product has a model number. Most of the time, you have a model number carved somewhere on the faucet or printed on the package. Search the details of your faucets online with that model number. Make sure you're looking at the right brand.
However, if you can't find the model number, you can try going to the manufacturer's website and search for your faucet. Go to the touchless faucet section and see if any of the pictures match your faucet. Try to use other features to narrow down the list.
After you have found your model, you can see if yours is adjustable or not.
Contact manufacturers
Almost all faucet manufacturers and suppliers have their hotline. You can call them at least in any business hour. If you know the number, it is the fastest solution. You can look in the instruction manual, unit package, or on the manufactures website for the number.
Instruction manual
If you are one of those few people who are comfortable with manuals, then go for it. Because this is the most sophisticated way to solve the problem. However, it could also be frustrating because most of the time, manuals are not well-designed.
Call your plumber
This is your last option and quite an embarrassing one. But if all the methods above have failed, you can try this one too. However, the odds are that your faucet doesn't have temperature adjustability.
Call your plumber and ask them about your faucet. Make them understand your model accurately. And if you are desperate, invite them over to give it a good look.
Faucets: Ceratronic Touch-Free Temperature Control Faucet by American Standard – New
Sensate Touchless Kitchen Faucet – Installation & Care
How to Install a Touchless Kitchen Faucet
Conclusion
That was a lot of words for a kitchen faucet, wasn't it? Something about them gets me excited.
Anyway, I hope you had all the information you needed. Next time when you run into a plumbing problem, you can use these methods on those problems too. But if you are still confused, now you know where to look for answers.