Kitchen Faucets Blog is reader supported – if you click on a link and make a purchase, We may receive commissions from purchases made via our links at no additional costs to you.
Manufacturers don't market their faucets much for the best faucet for portable dishwashers. And the ones who do are not very good at that. So, you have to be entirely dependent on reviewers like me to find out the best in the market.
You are clever to look up this problem because many faucets will fail as they are not designed to take the pressure of the dishwasher adapter. Moreover, the niche is also a little more than conventional.
So, please read carefully. Because it will decrease your future hustle.
What Is A Portable Dishwasher Faucet and Why Do You Need One?
A portable dishwasher is a smaller dishwasher on wheels. You also have an even smaller dishwasher called countertop dishwashers.
These dishwashers connect with the kitchen sink faucet for water. To connect to the faucet, they use an adapter, which is most of the time universal. So, you will need to take your aerator out to connect to the dishwasher.
Most faucets start dripping after a few weeks of repeatedly opening and closing the aerator. So, you need a pretty durable faucet to hook up.
Best Kitchen Faucet for Portable Dishwasher
Finding a product with capabilities that manufacturers don't really care about is not easy. I had to go through a lot of pain for these products. But it was worth it because all of them are really good.
1. Moen 7594EORB Arbor Pulldown Kitchen Faucet Featuring Power Clean
Top features
Spout reach: 7.87 inches
Faucet height: 20.67 inches
Functions: Stream, spray, and stop
Material: Brass
Flow rate: 1.5 GPM
Motion sense with two sensors
Moen faucets are always known for their looks. This is a stylish gooseneck faucet that does all of your kitchen jobs flawlessly. And it is the safest bet you can make when choosing a faucet of this style.
The weight balance is perfect for dishwasher adapters and the weight of the dishwasher hose system. It is rare to find a faucet of this style with the capability of running a dishwasher.
On top of that, it is a touchless faucet. The pullout hose is the best quality. You also have extra power in the spray functions, which also helps with the dishwasher.
Pros
Smooth pullout operation
Beautiful look
Precise weight balance even under the pressure of dishwasher hose
Limited lifetime warranty
ADA compliant
Cons
You might see some dripping while using the dishwasher
2. Kraus KPF-1602 Pull Down Commercial Style Kitchen Faucet
Top features
Spout reach: 9.5 inches
Faucet height: 32.125 inches
Functions: Stream and spray
Material: Brass
Flow rate: 1.8 GPM
Comes with extra pot filler
This is a perfect example of a contemporary commercial style kitchen faucet. And what makes it good for a dishwasher is the extra pot filler spout and the Kerox ceramic cartridge. It keeps the dripping to a minimum, and you will also be able to work with the pre-rinse faucet while the dishwasher does its job.
The only problem I see here is the height. But that is also a reason why it is here on the top list. The extra height makes it easy to drain the dishwasher water in the sink. These are especially good with countertop dishwashers.
Pros
Best kitchen faucet for countertop dishwashers
Stylish open-coil swivel spout design
Flexible functionality
Very convenient to use
Cons
Might be too high for some kitchens
3. Fapully Commercial Pull Down Kitchen Sink Faucet
Top features
Spout reach: 9.25 inches
Faucet height: 20.67 inches
Functions: Stream and spray
Material: Brass
Comes with pot filler
This is a pre-rinse faucet, yet this is your budget option. Maybe it's because the brand is not one of the market leaders. However, this particular faucet is amazing and popular as well.
After getting a feel for the faucet, I understood why it was so cherished by the customers. First of all, it is an amazing design with a pot filler that you can use for the dishwasher. And while washing the dishes, you can also use the main pulldown hose for other things.
Pros
Pot filler hooks up with dishwasher nicely
Strong aerator and construction
Premium cartridge
Convenient to use
Best faucet for the money
Cons
The reach of the pot filler is lower than I expected
Portable Dishwasher Faucet Buying Guide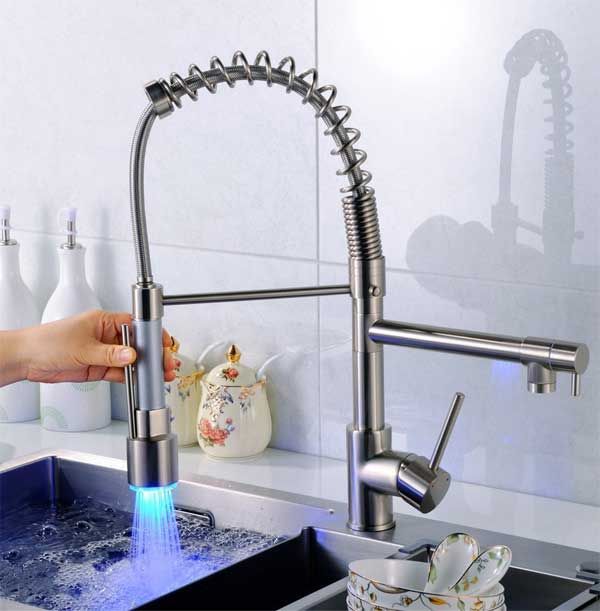 You have to remember that working with the dishwasher is only one function of the faucet. If it is your main kitchen sink, it has to be good in regular kitchen duties.
But I will focus more on the dishwasher compatibility while maintaining the guide's completeness as this article is mainly focused on dishwasher faucets.
Durable aerator
Aerator durability is the biggest issue in these faucets. Most of the time, you have a dripping spout after a few weeks for the dishwasher's frequent use. Without a durable aerator, you will be bound to change your faucet.
Pot filler
An extra pot filler means that you can use the faucet and the dishwasher at the same time. Pot fillers also have increased water speed. Make sure it has a good reach.
Flow rate
With a high flow rate, you can have more flow in the dishwasher. So, your dishes will be cleaned quickly. But that might also increase the water wastage. So, I would go for a faucet with flow rates of 2 GPM or higher.
Height
In my observation, higher faucets should be better for dishwashers. Because that helps you drain the water in the sink. It especially comes in handy when you are using a countertop dishwasher.
Easy dishwasher installation
You don't want to use tools when installing the dishwasher. The aerator should unscrew without any hustle. But that shouldn't initiate any dripping.
Other general faucet qualities
You can skip the following part if you are passionate about your kitchen. Otherwise, it might be some help to you.
So, the regular qualities you expect from an average faucet are given below
Good looks
At least two functions: Stream and Spray
Adequate reach
A good warranty policy and after-sale service commitment
Easy hot and cold water control
Smooth pullout hose and correct weight balance
High-quality cartridge
There are many qualities of a quality faucet. But these conclude the best of them.
Frequently Asked Questions
Questions are common when you are shopping for critical products like this. Some of those questions are-
Q: Which faucets are the most durable?
A: Always count on Brass and Steel. But other faucets can be good too.
Q: What are the best dishwasher adapters?
A: Here are two of the top dishwasher faucet adapters that you can try with your faucet-
Waternymph dishwasher faucet adapter
DANCO Dishwasher Snap Coupling Adapter
Q: Will touch faucets have any problem with the electronics of the dishwasher?
A: I never had any problem with the electronics.
Conclusion
If you are reading this, you must be really desperate for the best faucet for a portable dishwasher. I know, it was frustrating for me too.
And finding the faucets was especially tough because one has to use them for quite a while before making sure whether it actually dripped or not. But I finally got it. Now, you have the best faucets in front of you.