Kitchen Faucets Blog is reader supported – if you click on a link and make a purchase, We may receive commissions from purchases made via our links at no additional costs to you.
The color white symbolizes a fresh start or new beginning. It is also a color of purity. And it is needless to say purity always gives us refreshment and new energy. That's why, we decided to pick up some white faucets to energize you and your kitchen décor with an effortless cleaning experience.
But why would you buy these few faucets from the thousands of faucets out there?
The answer is simple.
It is because our expert researcher team always tries to pick the best of the best products for you. And it is no exception for these white single handle kitchen faucets as well.
It won't be any wrong if we mention these as the best white kitchen faucets.
Don't trust my words?
So, let's not make any delay.
Just jump right into the next section and figure it out by yourself.
Benefits and Reasons of Choosing A White Faucet
There are many type of finishes available in the market. But why would you choose white?
There could be a lot of answers to this question depending on individuals. But from our point of view, there are some key reasons and benefits behind that.
The color white easily blends with any bright décor, and it also contrasts against dark ones. And as it is a bright color, it always attracts people.
A white faucet needs to be cleaned regularly. Otherwise, the spots on it will be visible. As a result of this regular maintenance, it makes the white faucets last longer. Though it seems lame to hear that but it is a real fact.
Top 8 White Kitchen Faucets
Here are our researcher's best rated kitchen faucets with the color of purity-
1. Delta Signature 470-WH-DST -Runner Up
Top features
Spout Height: 10 Inches
Spout Reach: 9 Inches
Hose Reach: 38 Inch
Spray Functions: Stream & Spray
Flow Rate: 1.8 GPM
Warranty: Limited Lifetime Warranty
If you are a fan of Delta Faucet, you must know about their exclusive Diamond Seal Technology. This is one of those pieces in which they used this exclusive technology for giving you a satisfactory user experience. But even if it leaks, I think it is not a big deal as it is backed up with a Lifetime Warranty. ????
Like most of the delta kitchen faucets, its spout has the dual function sprayer head of stream and splash. And toggling between these modes requires only a click of a button.
This pull-out faucet has a flow rate of 1.8 GPM. That makes your heavy-duty cleaning job much easier, along with a reach of 38 inches.
The faucet is featured with a clean touch design for improving the resistance against discoloration and abrasion. That also makes the faucet easy to clean while providing long-lasting performance.
It is equipped with touch-clean rubberized holes. So, it is very easy to clean calcium or lime build-up with just the simple touch of your fingers.
Delta is always concerned about its product quality. So, all of their products undergo some tests, and that's why they can make those bold promises. And there was no exception for this faucet as well. That's why it comes with a promise of a minimum of five million times opening and closing.
This white delta kitchen faucet comes with InnoFlex PEX supply lines along with other necessary things, including the optional deck plate. You can install it in any sink, whether it is a single-hole or triple-hole sink. The installation of this faucet is straightforward as well. You can do it by yourself very quickly.
Pros
ADA & CA/VT Compliant
Lightweight
Easy Clean
Sleek Design
Cons
Water Temperature regulation is a bit complex
2. BLANCO 441491 –Great For Heavy-Duty
Top features
Spout Height: 6.13 Inches
Spout Reach: 8 Inches
Spray Functions: Stream & Spray
Build Material: Brass
Flow Rate: 2.2 GPM
Warranty: Limited Lifetime Warranty
Regular buyers know that how difficult it is to find a high GPM faucet in a low or mid budget price range. But BLANCO has made it easier for you with this faucet.
This is a mid-budget white pull-out sprayer kitchen faucet with a 2.2 GPM flow rate. It is made of solid brass. So, there is no option for rusts at all. The faucet is equipped with a ceramic disk valve. So, there is no tension for corrosion as well.
You will get two spray option, stream, and spray. It is capable of a 128-degree swivel. And you can extend the pull-out spray head around 29 inches for great flexibility.
In most of the faucets at this price range, you will get rubberized hoses. But unlike most faucets, its spout hose is made of metal.
The installation process is also very easy. And you can install it in any 1-3/8″ hole sink.
Though we have chosen that faucet for its high flow rate, some users may prefer a bit lower flow rate. There is also an option for such users.
This faucet has another variant of 1.8 GPM. So, you can go for that one if you prefer a bit lower water flow rate.
The faucet has a very smart design. And the white color makes it more beautiful. But if you prefer something other than white, then there are seven more finishes available for you.
Pros
LGA & DVGW Approved
Very Cost-Effective
High Water Flow Rate
Suitable for Compact Sinks
Aesthetic Design
Cons
Sprayer Retraction Mechanism Should Be Improved
Nook and Crannies are a bit difficult to clean
3. Yawhite FU-fba-020701-WHITE –Great Of Extra Height
Top features
Spout Height: 8.27 Inches
Spout Reach: 8.27 Inches
Hose Reach: 20 Inches
Spray Functions: Stream & Spray
Build Material: Brass
Flow Rate: 1.8 GPM
Warranty:
Lifetime Limited Warranty (Residential)
5-Year Limited Warranty (Commercial)
Returnable in 30 Days
There is a saying, "Simple is smart," and when I first saw that faucet, that saying knocked my head at first.
It is a contemporary designed faucet with a flared head. The design makes the faucet very attractive. Moreover, its white finish adds extra appeal.
Black and white are always a perfect combination. Yawhite brought this combination on their faucet for a greater look as well.
You will find a black switch for toggling between stream and spray mode and a black pause button.
The faucet is brass constructed. And the manufactures used Ceramic Disc Valve inside for providing a long-time service without any corrosion or any leakage.
It has a water flow rate of 1.8 GPM. That is pretty high for residential usage, but this may be a bit problematic in some huge commercial kitchens. But we shouldn't complain about that as it is a mid-budget faucet.
This is a 360-degree Swivel spout faucet. And the pull-out hose can extend the range of motion up to 20 Inches. That makes dishwashing very flexible.
You also don't need to put extra effort into putting the retractable water hose in the right place after use, as it automatically retracts back and sits in its place perfectly.
The installation is very straightforward as well. It shouldn't take more than 30 minutes if you want to set it up by yourself without any professional helping hand.
And to make this setup easier, manufacturers include all the mounting hardware and the water supply lines along with the faucet.
Pros
Easy Installation
Comparatively High Flow Rate
Automatic Docking
Cost-Effective
Cons
Cover Plate is not included for 3-hole installation
4. Moen CA87316W –Great Extended Spout
Top features
Spout Height: 9.6 Inches
Spout Reach: 9.6 Inches
Hose Length: 68 Inches
Spray Functions: Stream & Spray
Build Material: Stainless Steel & Plastic
Flow Rate: 1.5 GPM
Warranty: Limited Lifetime Warranty
Modern kitchen tasks always require great flexibility. That's why people look for the high arc faucets while looking for a kitchen sink faucet. As a result, low arch design faucets are not very common in kitchens. That's why we miss some masterpieces sometimes. And this faucet is such a masterpiece.
It is a low arc stainless steel kitchen faucet with a plastic pull-out spray head. The finish used on this faucet is a Glacier finish. That makes the faucet look very bright.
The spray head has two functions of stream and spray like most of the kitchen faucets. And its metal-braided 68-Inches hose gives you great flexibility with its 120-degree swivel capacity.
In the spray-head, manufacturers used Power-Clean Spray Technology. That gives you 50 percent more spray power.
It has a 1.5 GPM flow of water, and its super smooth lever makes it very easy to control the water flow.
The installation is very straightforward as it features the Duralock Quick Connect system. And It is compatible with one and three hole kitchen sinks.
Comparatively, this product is a top-class product in its price range. Some may resist as it is made of plastic. But considering the other specifications, we shouldn't be complaining about that.
Pros
ADA & Lead-Law Complaint
Compact Design
Easy Installation
Cons
5. Peppermint PMUT23N -Best Ceramic Disc Faucet
Top features
Spout Height: 9 Inches
Spout Reach: 8.6 Inches
Spray Functions: Stream & Spray
Build Material: Brass
Flow Rate: 1.8 GPM
Warranty: Limited Lifetime Warranty
This is a minimalistic design white pull down kitchen faucet. However, the manufacturers didn't compromise about the build quality and other specifications.
The faucet is constructed with lead-free brass. So, no worries about lead, no worries about rust.
It has two different spray modes as follows: spray and stream. But it has an interesting side.
Usually, manufacturers use a single button or a slider for switching between these modes. But in this faucet, you will find two different switches for two different modes.
The faucet is equipped with Peppermint's SMOTY Ceramic Cartridge. That is promised for a minimum of One Million opening and closing cycles without any issues. It also gives you a smoother handle control.
And as it is a ceramic disc faucet, that means it is capable of providing you a long service without any leakage or dripping. And you can also use it with hard water.
The installation process of this deck-mounted faucet is pretty straightforward. You may ask for a professional to set it up if you are a super lazy guy.
But if you love to do your tasks by yourself, then you have a scope for saving the charge of a professional plumber as it is super easy to setup. You can set it up just by following the installation guide in under 30 minutes, even if you don't have any previous experience.
Let's finish discussing the faucet by talking about its durable finish. This faucet has a multi-layer matt white finish that resists water spots and fingerprint spots.
And another unique side of this faucet is that it doesn't have any other finish than this matt white one.
Pros
Easy to Install
Ceramic Disk Cartridge
Smooth Handle Control
Cons
Stream Diameter is a bit smaller
6. Kraus KPF-1673CHWH -Best Overall
Top features
Spout Height: 9 Inches
Spout Reach: 9 Inches
Hose Length: 70.8 Inches
Spray Functions: Stream & Spray
Build Material: Brass
Flow Rate: 1.8 GPM
Warranty: Lifetime Warranty
Kraus is a trusted name to millions of people. Maybe you are one of them.
If you are already a Kraus fan and looking for a white faucet, then it is going to be a win-win for you.
Yes, this is a white faucet from Kraus with a very simple yet modern design.
But it is not a full white piece; rather, it is a duo-tone faucet. The manufacturers used their exclusive all-Brite finish on it for a spot-resistant and flawless look.
Its flared sprayer head and the handle are finished with a chrome finish that gives the faucet a very elegant look with a combination of the matt white finish of the faucet body.
Like most of the faucets, it also has a dual-function spray head. And like the other faucets, you also get stream and spray mode from that.
It has a surprisingly long hose of almost 71 Inches. That's Huge!
With this long hose, you get a very flexible working capability with this faucet. And the 360 Swivel capability adds an extra advantage to the cleaning of the hard-to-get spots of your working environment.
The faucet is made of brass for a rust-free experience, and there is a premium ceramic disk valve for drip-free use.
It also is equipped with silicone spray nozzles that are very easy to clean and prevents lime build-up.
The manufacturers used quick connect installation in it, which made the installation process super easy.
Pros
NSF/ANSI, DOE, CEC, UPC & CSA Approved
ADA Complaint
Easy to Install
Anti-clogging Aerator
Braided Nylon Hose
Cons
Docking System is Not Magnetic
7. Pfister G13310WW –Best Budget Buy
Top features
Spout Height: 4 Inches
Spout Reach: 16 Inches
Hose Length: 38 Inch
Spray Functions: Stream & Spray
Build Material: Brass & Plastic
Flow Rate: 1.8 GPM
Warranty: Limited Lifetime Warranty
When buying a kitchen faucet, what we look at most often are High arch faucets. We don't even care about low or mid-arch faucets at all.
But we should not be bounded to such stereotypes anymore.
We would like to call this faucet a myth breaker. But why? Keep up the reading, and you will get it soon.
This is an excellent mid-arch design faucet with a 38-inch spout hose length with a 360-degree swivel. That gives you great flexibility.
Inside this faucet, the manufacturers used their exclusive Pforever Seal technology. And they guarantee that their ceramic valve will never be leaked.
This faucet has two different modes. But unlike most of the faucets, you will get a single button for switching between modes.
That 1.8 GPM faucet body is brass constructed, and the sprayer is made of plastic. So, there is no tension of rust.
This faucet is not only top-notch in specifications, but it also looks great. Its white finish makes it very bright and will surely make your kitchen sink attractive.
In short, it is a super cool product with a reasonable price tag.
And this is not only a kitchen faucet. You can use it in a lavatory or with a tub or shower as well.
Pros
ADA Complaint
cUPC Certified
Easy Installation
Can be Mounted on Walls
Cons
Water Temperature Control is a bit complex
8. BLANCO ARTONA 442028 -Mid Budget
Top features
Spout Height: 10 Inches
Spout Reach: 8 Inches
Flow Rate: 2.2 GPM
Spray Functions: Stream & Spray
Build Material: Brass
Warranty: Limited Lifetime Warranty
This is another mid-budget white kitchen faucet from BLANCO. The previous one was a faucet with a pull-out design. But this one is a pull-down design faucet.
Like the previous one, it is a duo-tone faucet as well. And the artistic design and the smooth finishes of this faucet have given it a lucrative look.
When it comes to the functionality and other specifications, it will impress you as you are impressed with its organic body design.
It is a solid brass constructed faucet. And you already know, a solid brass faucet means a lead & rust free faucet.
And to give you a service year after years without any drip or leakage, it is equipped with a ceramic disc cartridge.
Like most of the faucets, its pull-down sprayer head has the functionality of spray and stream. But the flow rate of this faucet is 2.2 GPM, which is way higher than the average kitchen faucets. That makes your washing jobs very easier, and the 180 swivel adds a bit more flexibility to it.
The product is worth buying. You will rarely find such a high spec faucet with contemporary design in a mid-budget range.
Some may prefer a bit lower GPM for their kitchens. For them, the faucet has a 1.5-GPM variant. And some may prefer a different finish than white. That's why BLANCO has eight more finishes of this faucet as well.
Pros
WaterSense Certified
High Flow Rate
Cost-Effective
Precise water control
Cons
The Lever Could be a bit longer
Hose length could be improved
Things to Consider to Get the Best White Kitchen Faucet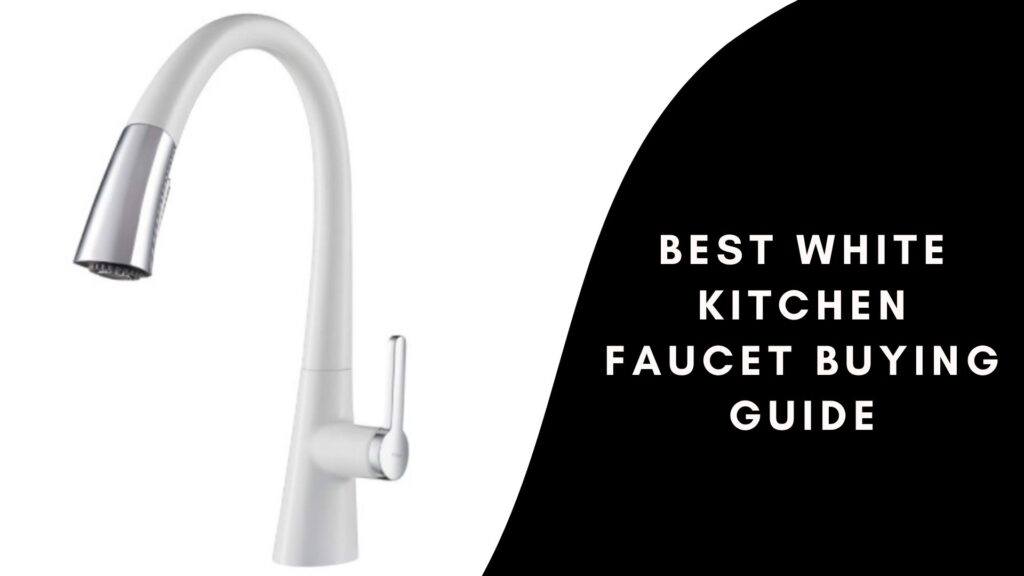 These are the most crucial facts to consider before buying any faucet-
Price
It is always a difficult task to balance between the perfect price and good quality. And things get a bit more complex when you have a special requirement like color, weight, etc.
If you want a good quality faucet, then you need to spend at least 100$, and then this can go higher depending on additional functionalities and improved qualities.
And if you want to buy a high-end premium quality faucet, then you should budget at least 200$.
Build Material
The robustness and durability of a faucet depend on its build material. So, it is the most important factor of a faucet.
In the market, there are a lot of faucets from different materials. But the most common ones are:
Brass
Brushed Nickel
Stainless Steel
Plastic
Among these materials, brass is the most robust and rust-resistant. So, it is always recommended to go for a brass faucet for long time durability.
Valve Type
There are four types of valve available:
Compression Valve
Ball Valve
Cartridge Valve
Ceramic Disc Valve
Among these types of valves, ceramic disc valves are the newest technology. This type of valve ensures a drip-free service for a very long time and also corrosion-resistant. That's why it is recommended by most professional plumbers.
And we recommend that as well.
Mounting Style
There are mainly three types of mounting style:
Countertop Mount
Sink Mount
Wall Mount
Sink mount style is the predominant style. If you have any other option than sink mount, you should check the faucet description before buying.
This factor is mainly for those buyers who have cabinets over their sink area. Usually, the pull-down faucets have very tall spouts. So, if you don't have enough room above the sink area, these types of faucets may not fit very well. The same goes for shallow sinks.
In such cases of limited space problem, you should go for pull-out faucets as their spouts are not very tall.
But if you don't have such issues of spacing, you can go for pull-down kitchen faucets without any worries.
Levers
There are two types of faucets depending on lever number:
Double lever faucets have a dual water inlet for supplying hot and cold water. And usually, the single lever faucets can supply one type of water. But nowadays, manufacturers are producing single-handle faucets that are capable of providing both hot and cold water.
Hole Requirement
This fact has a connection with the lever number of a faucet. If your faucet is a dual lever faucet, then you will need two or more sinkholes.
Nowadays, some single-handle faucets have dual water inlets, but still, they don't need more than a single hole.
But in some cases, you will need multiple holes, even for single-handle faucets depending on their need.
So, don't miss to check the hole requirement before you buy. Otherwise, you may need to make drills on your single-hole sink or replace it with a new one if you buy such a faucet that requires two or more holes.
Care & Maintenance for A White Finish
Always follow the user manual to know the best cleaning method for your faucet. But here are some common advice on how to maintain a white faucet:
Never use any harsh chemical or polish
Always use a damp cloth for wiping the faucet
Use a dry cloth for water spots
For removing hard stains, use a soft cloth with warm water
To clean lime build-up or other water deposits, mix white vinegar and water in a 1:1 ratio and then clean the faucet with a soft cloth soaking in that mixture.
Material Guide of White Kitchen Faucets
We've already talked about that in the buying guide shortly. But as it is a super crucial fact, we feel it necessary to talk in detail.
By now, we know that brass faucets are mostly available. But why brass? Why not the stainless steel?
It is true that stainless steel faucets are very durable and also very common. But the problem is, it is a costly material. So, it will increase the price of the faucets.
So, to make it cost-effective, manufacturers widely use brass. Brass is a combination of copper, zinc, and lead (less than 8%), and it is highly corrosive resistant. But this lead is completely harmless in the brass alloy.
And for making the faucets cheaper, manufacturers sometimes use zinc alloys.
When it comes to the finish, a brushed nickel finish is the first priority. But for cost-effectiveness, chrome finishes are good to go. But they are not as highly robust as brushed nickel.
Frequently Asked Questions
Here are some of the questions that we get the most-
Q: What are some trusted faucet manufacture brands?
A: A lot of manufacturers are serving people year after year, ensuring customer satisfaction. Here are some top brands:
Delta
Moen
Pfister
Kohler
Kraus
American Standard
Among these, Delta is our favorite, followed by Kraus and Moen.
Q: Is there any chance of harming the faucet finish while cleaning with vinegar?
A: Vinegar is a mild acid. Though it is mild, ultimately, it is an acid. So, soaking a faucet for a long time will definitely harm the finish. Never ever soak your faucet in vinegar for over 10 minutes. Otherwise, it will start easting your faucet finish.
Q: What is an ideal water flow rate for a kitchen faucet?
 A: Anything between the range of 1.5 to 2.2 GPM flow rate is good to go. But it is recommended to go for higher flow rate faucets as you can control the flow rate later by bringing your water pressure to an optimum level.
Q: How to avoid splashing from higher flow rate faucets?
A: Bring down your water pressure to an optimum level to avoid splashing.
Q: What to do if the top finish layer starts to come off?
A: Check the warranty agreement to see if it is backed up with a finish-warranty or not. If yes, then you should contact the manufacturers.
Otherwise, buy a touch-up felt tip matching with your faucet finish from a local paint store, and then touch up the area where the finish layer has come off.
Q: What to do if the spout water flow gets low suddenly? And why does it happen?
 A: Most of the time happens because of the build-ups inside the faucet. In such cases, remove the filter from the hose connection fitting using a sharp object. Then reinsert it after cleaning properly. That should fix the problem.
Q: When to change my faucet cartridge?
A: If your faucet leaks while it is turned off, your faucet cartridge needs a replacement.
 Q: How long does an average kitchen faucet last?
 A: A kitchen faucet can last up to 15-20 years if maintained properly.
Q: How to prevent microbe growth in the kitchen faucets?
A: Microbe growth on a faucet is a big problem. To get rid of this, you should clean your faucets in a scheduled manner.
But the best way to get rid of this problem is to buy an antimicrobial faucet and kitchen sink. Nowadays the well-known companies like Moen and Delta products such antimicrobial products.
Wrapping Up
Hurrah!
You have made it to the last. You really deserve a clap for your patience. ????
I hope this review of the best white kitchen faucets was very helpful, and you have learned a lot from that.
Thanks for reading me ????????