Are you facing problem in kitchen faucet removal?
Are you interested in changing your old kitchen faucet into a new one? Either your kitchen Faucet is old enough to use or you just want to give your kitchen a new look, removing an old faucet is important and it is the toughest part in this whole scenario DIY.
An old faucet can be rusted and struck, due to mineral deposits of the years and moisture. The corroded plumbing nut of faucet gets so struck that there are two options to solve this problem.
To remove the nut
OR most probably (if it is so rusted) to break it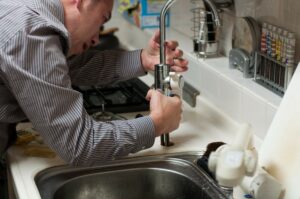 You can come across a lot of problems while removing an old faucet and installing a new one, but below are some problems, you can avoid if you take into consideration before starting your work.
Things you will need for the operation
Make sure you have these items before starting changing the kitchen faucet.
Things you need to do before the operation
Firstly shut off all the valves of this faucet or the main water supply valve of your house. It may cause damage or body injury, if not done. Before going to market, analyze your kitchen faucet, what do you need and what are available in hand.
Deeply check the holes of the faucet, the number of holes, the location of faucet components, and sprayer. You can check that either it can be removed by a wrench or locking pliers, or you need to use severe measures.
Step by step guide for the removal process
To start the process of removing kitchen faucet,
Firstly, remove the plastic nuts with hands moving them anti-clockwise. Then use a wrench to remove the retaining bracket. If it is hard, you can put the wrench on the bracket and strike it with a hammer. Make sure the area should be free of any valuable item.
If you can't lose it through wrench and hammer, you can give heat to faucet through a hairdryer or heat gun. During heating, you should follow all precautionary measures of using heat like protective eyewear and keep water or fire extinguisher beside you. You should also use protective heat gloves.
You have to give the heat evenly on the faucet, the heat will let the faucet nut expand and eventually remove or break. Avoid heating step, if your plumbing fixtures are made of plastic because heat can plastic melt down the plastic.
As far as, it is still not removed with heat you can also apply rust remover with calcium and lime on the rusting area of faucet. Apply it, let it work and then scrub off you have to use penetrating oil or lubricant on it and leave it for several hours when the oil will be soaked in the threads, remove the nuts with ranch. Keep in mind, never use penetrating oil and heat right after each other as oil is highly flammable.
The last and lifesaver option is to use a grinder to remove faucet, you can use a hacksaw to grind the faucet horizontally from both sides. the hacksaw can cut the faucet. Then you can remove the faucet that was rusted and you can install a new stylish faucet. Installing a new faucet is quite easy, just to follow the given instructions. If you want a detailed description of how to install a new faucet or latest faucet styles in trend let me know in comments.
Conclusion
Well that's about all you need to know about the removal process. Remember that you might have to improvise when dealing with different or unique faucets.