Hey…
I know, choosing the right kitchen sink and faucet could be a pain, especially if you are doing that for the first time. And homeowners need to give extra focus on these two items because they are necessarily the star of your kitchen.
However, after reading this article, you shouldn't have any problem choosing the best sink and faucet for your kitchen counter.
Here we have buying guides for two products: a sink and a faucet. We are first gonna choose the sink and then move on to the faucet as matching faucets with sinks is far easier than the other way around.
Moreover, we are considering that you are looking for a combination of the two. And we also recommend to prioritize your requirements and then move on to the selection process.
Hopefully, this article will make your money well-spent.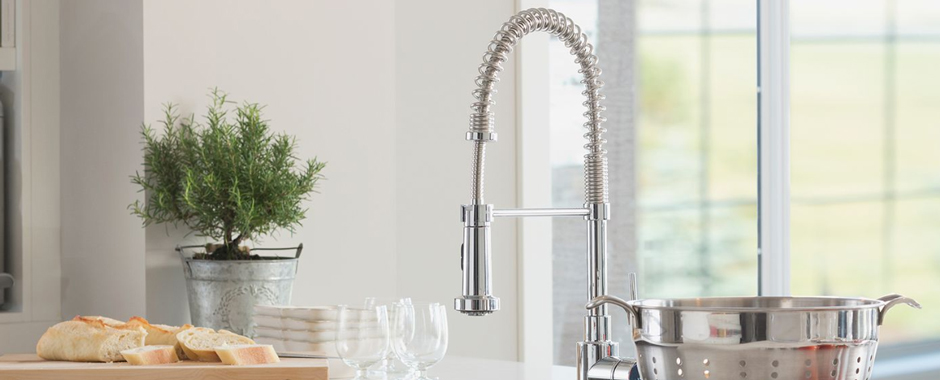 What Are The Priorities?
Experts will always consider your priorities first. No matter how good your sink and faucet setup is, if you are not comfortable with it, you won't be happy. And, we believe that you are not buying sinks or faucets; you are buying happiness.
So, you have to decide what your priorities are. Here are some of the things that most people have at the top of their priority list for choosing a sink and faucet for their kitchens-
Basic priority: Durability & Price
This should be everyone's fundamental priority. Even if you have the best looking faucet is the market, if it drips after six months, it is no good for you. But you also have to consider the price, especially if you are on a budget.
But don't compromise with the durability of the setup. Even if it costs fifty or a hundred dollars more to get a longer-lasting faucet and sink setup.
Style and finish
This is the second most important thing you should consider. Your kitchen sink and faucet set the vibe for your kitchen. And, if you are passionate about your home, I will strongly suggest you make a reasonable budget just for the style.
Convenience
For some people, convenience is everything. If you are one of them, make sure that the installation and repair processes of the faucet and sink are easy. The manufacturer should also be able to replace the products, and the terms of the warranty should also be comfortable for you.
Special features
Sinks and faucets have many features that add to the value of the products. Some of these features of faucets are pull down sprayer, touchless faucet, pot fillers, soap dispensers, etc. And for sinks, these faucets could be a low divider, bar sinks, pedestal kitchen, etc.
These features will cost a little bit, but they are surely worth your dollars if you really need them.
So, now you have to figure out what you need and what you don't. Then you can start to pick from the gardens of kitchen faucets and sinks.
How to Choose A Kitchen Sink
Now that you have your priorities all set, you can start to look at the different features and their standards for choosing a kitchen sink. But there are lots of kitchen sink options in the market.
We have devised a list of 26 types of kitchen sinks and some of their details. Click here, to check that page out.
Here are the facts you need to keep in mind to find the best kitchen sink option-
Mounting position
This is a fundamental style and convenience factor for your kitchen. You have seven options for mounting positions. They are-
Under-mount kitchen sink
Top mount kitchen sinks
Flush mount kitchen sink
Integrated sink
Pedestal kitchen sinks
Wall-mounted kitchen sinks
Kitchen island sink
Read this article for their details.
Under-mount, flush-mount, and integrated kitchen sinks are almost similar. They are very stylish and convenient for use. They also keep the charm of your counter. Top mount kitchen sinks are easy to install and repair, and they are your most popular choice.
I would strongly suggest you avoid pedestal kitchen sinks as they are obsolete in today's kitchens. Wall-mounted faucets are hard to relocate and repair for apparent reasons. But they can be handy in different situations. Lastly, island kitchen sinks are very stylish. But they can be expensive as well.
Selecting the bowl configuration
Based on the bowl configuration, you have four kitchen sink choices. They are-
Single bowl kitchen sink
Double bowl kitchen sink
Double-offset kitchen sink
Low divider double bowl sink
Click here to have the best of their details.
I would not suggest you go for single bowl kitchen sinks unless it is a bar or prep sink. And that bar or prep sink should also be beside a regular kitchen sink. Always go for double bowl sink options.
If you are short on space, you can go for a double-offset kitchen sink. Low dividers are also very useful as they make the least mess. Remember that the size of your bowl is very important in choosing kitchen sinks.
Number of holes
This only applies if you have already chosen your faucet (which we don't recommend). Keep in mind that your sinkholes should be more than faucet holes. And the separation of the hole should also be compatible with the faucet.
Selecting the best sink material for your kitchen
After the best sink designs come the best sink built materials. Now, what are kitchen sinks made of? There are eleven options for sink materials in the market. They are-
Stainless steel kitchen sinks
Granite composite kitchen sinks
Cast iron kitchen sinks
Fireclay kitchen sink
Quartz kitchen sink
Bamboo kitchen sink
Copper kitchen sink
Porcelain kitchen sink
Acrylic kitchen sink
Stone kitchen sink
Concrete kitchen sink
Click here for a more discussion on these kitchen sinks materials.
The best kitchen sink materials in terms of style are stone, granite composite, fireclay, quartz, porcelain, and acrylic. Among them, stone sinks are the most aesthetic. While acrylic has a unique ability to buff out scratches and stains.
You should avoid porcelain, although they look outstanding in the kitchen. But they will start to change color in a negative way. Quartz is useful for large kitchen countertops.
The most durable in this list are stainless steel, cast iron, copper, and concrete sinks. But they don't have the best looks. But copper has unique anti-microbial properties. Although concrete might be the least desirable, they are still in the market for their flexibility.
Don't choose these kitchen sinks
Sometimes these basins are marketed as kitchen sinks, but they are never good with kitchen tasks. They are-
Console kitchen sinks
Vessel kitchen sinks
Vanity sinks
So, avoid these sinks. They are not fit for American standard kitchen counters. However, long basin kitchen sinks could be a valid option for your kitchen sinks design.
Picking sinks with special features
Many sinks are designed in a certain way to give you some unique advantages. Here are some of those sinks-
Apron/farmhouse kitchen sinks
Bar/prep kitchen sink
Corner kitchen sink
Drainboard kitchen sink
Apron sinks are large and can be used for large and busy kitchens. But don't confuse them with utility sinks. Utility sinks have much deeper basins and generally have only one bowl.
Bar sinks are small and often used for prep work. If you want to set up your sink in the corner of your kitchen, then you will need a corner kitchen sink. You can also have a drainboard sink that allows you to drain the water from your dishes.
How to Choose A Kitchen Faucet
We will follow the same steps for finding the correct kitchen faucet that we used to pick the best kitchen sinks. Considering your priorities, look at different kitchen faucet features we are mentioning below.
And, you should get the best kitchen faucet for your sink.
Handles or activation system of the faucet
There are two basic divisions of the faucet, single handle, and double handle faucets. Decide first whether you have any problem with one.
Based on the activation system of the faucet, we can see four different categories of kitchen sink faucet. They are-
Ball handle faucet
Disc or disk faucet
Compression washer
Cartridge faucet
Ball handle faucets are stylish and complicated structures. Hence they are hard to repair as well. They generally come with single handles.
Disc faucet gets their name from the ceramic discs in them. They control the flow of the water. But these single handle faucets can control both hot and cold water with the pressure balance cartridge.
Compression washers are your old models that have a wheel to turn off and on your water supply. Most of the time, they don't look excellent, but they are very durable.
Cartridge faucets are much smoother and easy to operate. They are good in looks as well.
For more on their details, click here.
Electronic faucets
You have heard of touch faucets, haven't you?
If you have the budget, I would strongly suggest you take one of them. When buying a kitchen faucet, they will surely make your money count. There are two kinds of touch faucets in the market.
The difference is that you have to touch the touch-on faucet, but there is no physical contact with the touchless one. They use different sensors and, most of the time, require batteries. Even if they are using the mainline, they won't cause any dent on your bill.
Determine the mounting position
Consider your kitchen sink type and then determine the mounting options you have. Based on mounting positions, there are four types of faucets. They are-
Deck-mounted faucets
Wall-mounted faucets
Widespread faucets
Center set faucets
Deck-mounted faucets are common and the most convenient faucets. Wall-mounted faucets are attached to walls. Hence, they have a completely different system. Widespread and center set faucets are for larger kitchen sinks and decks.
Number of holes
This is a big fact for choosing kitchen faucets. Following a number of holes are most common in kitchen sinks-
Single-hole
Double hole
Three-hole
Four hole
Make sure that your sink meets the hole requirements of your faucet.
Size of the faucet
When buying kitchen faucets, the faucet size factor is a major priority. But first, you have to ask yourself, "what kind of faucet do I have." Bar faucets and basin taps can be smaller. So, you have two basin design sizes-
The high arch spout height should be 8-10 inches, and the low arc spout height should be 3-8 inches above the sink place. Generally, a long pout reach is about 10 inches, and a short spout reach is approximately 6 inches. Nevertheless, having a spout reach half of your sink is ideal. And the overall spout height is not that important.
Faucet functions
Now, you have to decide if you want any special faucet functions from your faucet. If you do, you need to find a faucet with those features. Here are the faucet functions available in the market.
Water filtration faucets
Coldwater dispenser
Hot water dispenser
Soap dispenser
Side sprayer
Fusion faucets
There are many other faucets that are dedicated to some tasks such as pot fillers, basin taps, etc. They are not a function of your faucet. Instead, they are totally separate faucets. Hence, we listed them separately.
Installation and repair convenience
Never ignore this fact when buying kitchen faucet. The extra cost and the waiting time of the plumber are going to be agonizing. So pick a faucet that is easy to repair and maintain. You should also be able to install it DIY. However, don't sacrifice anything big for it if you have the budget.
That's one kitchen faucet tip no one will tell you.
Conclusion
With the two buying guides, we have shown you what to look for in a kitchen faucet and sink. So, choosing the right kitchen sink and faucet shouldn't be a problem. You just have to remember your priorities, pick the features, and look for your faucet accordingly.
Hopefully, it will guide you to the best sink and faucet combination.