Pedestal Sink with Futuristic Design
A pedestal sink makes an elegant statement about your bathroom. Bathroom sinks show off your floor and walls while covering unsightly drain pipes. If you're looking for a bathroom pedestal sink or parts for a pedestal sink, then you've come to the right place.
There are so many different sink designs out there available in the market. So, choosing one for your bathroom design can be hard. We can help you choose exactly the right sink, or sink parts for your space.
Without wasting any more time let's check out the 5 best pedestal sinks for small bathrooms that we've selected for you.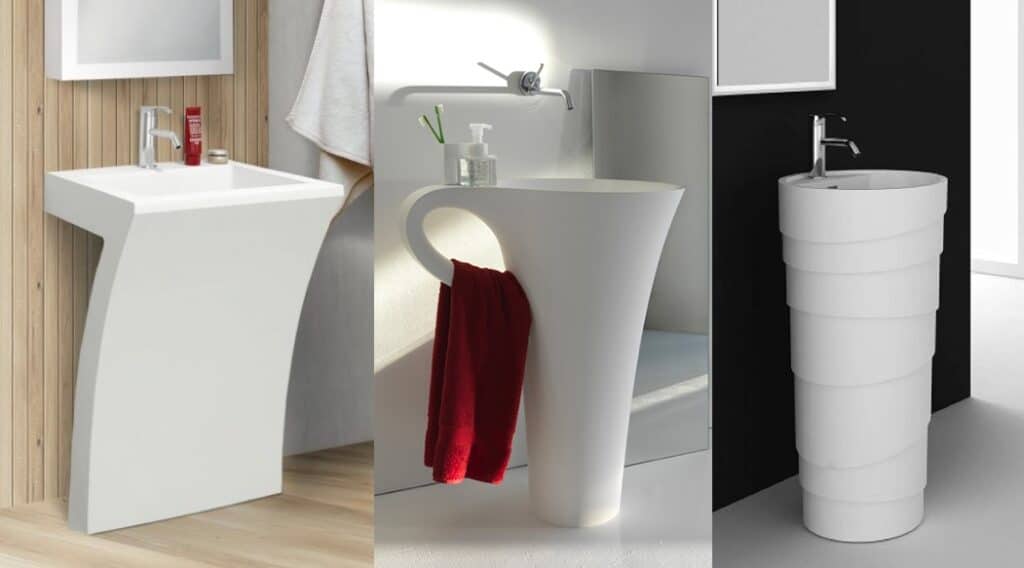 My Top 5 Pedestal Sinks
KOHLER Pedestal Bathroom Sink
American Standard White Pedestal Sink
Bohemia Modern Glass Pedestal Sink with Faucet
Ondine Small White Pedestal Sink for Bathroom
Foremost Series White Pedestal Combo Bathroom Sink
Let's read all the individual Items details in below
1. KOHLER Pedestal Bathroom Sink
The Kohler K-2359-8-0 Archer pedestal bathroom sink is the first model on our review of the best pedestal sinks for small bathrooms. This is the archer version and it has 8-inch centers. It looks really beautiful in small bathrooms and the design is pretty decent.
This pedestal bathroom sink is made of vitreous china and other ceramics that makes it an elegant sink. These are the most popular materials for making pedestal sinks. It not only makes your bathroom looks appealing, but you can also expect it to have it for a long time. Don't be surprised, but the truth is you can pass it down to your children.
The dimension of this pedestal sink is 37 x 35.5 x 29.8 inches, which makes it higher for the smaller children in the home to reach. Another great feature is the three faucet holes that help you get water at the right temperature. There are overflow drain holes that prevent water from overflowing.
Moreover, this pedestal sink faucet comes in a variety of colors so that you won't find it difficult to match your décor.
Pros
High-quality materials
Three faucet holes
Enough space for holding toiletries
Variety of colors
Pros
Too high for small children
2. American Standard White Pedestal Sink
If you're looking for a low budget pedestal sink for a small bathroom, then the American Standard Boulevard Pedestal 4-Inch Counter is the perfect choice for you. This sink isn't too modern or old, so it suits any bathrooms. It comes in two different styles which include single-hole and 3-hole.
This pedestal sink faucet has a twin front which conceals the overflow. You won't find this feature in most of the small bathroom pedestal sinks. They make no compromise when it comes to strength and durability. It's made of vitreous china to ensure maximum durability.
The sink rim is slanted toward its base so that the water drains quickly. This feature is another great thing about this bathroom sink that sets it apart from other bathroom sinks.  The only drawback of this pedestal bathroom sink is that the bottom isn't angled much. Therefore, debris may not drain as easily as water.
Overall, it's one of the best pedestal sinks for small bathrooms that looks impressive at a budget-friendly price.
Pros
Affordable price
Quick drainage facility
Suits both old and modern bathrooms
High durability
Pros
The bottom isn't angled enough
3. Bohemia Modern Glass Pedestal Sink with Faucet
If you're looking for a compact-sized pedestal sink with a futuristic design then the Bohemia Modern Glass Pedestal Sink is the best choice for you. The contemporary design of the sink will immediately catch your eyes and it'll add a sense of luxury to the overall interior of the bathroom.
This sink is the combination of the best of both worlds as it also includes a high-quality chrome faucet. Along with the faucet, the sink also includes a drain and towel bar. It's a complete package that's a perfect fit for small bathrooms or half bathrooms. It comes with high-strength tempered glass offering excellent durability.
Due to the circular shape of the sink, you'll not be able to keep too many toiletries around it. However, you can place some of the essential things around it without hampering its performance. Overall, the Bohemia Modern Glass Pedestal Sink with Faucet is an excellent choice if you're looking for a complete package for your small bathroom.
Pros
Comes with chrome faucet, towel bar, and drain
Excellent design
Suitable for regular and half baths
Budget-friendly
Pros
Not much space around the deck
4. Ondine Small White Pedestal Sink for Bathroom
The Ondine Small Pedestal Sink for Bathroom has a bold yet sophisticated design that will put an elegant touch to your bathroom. This sink has a highly durable construction that makes it suitable for everyday use.
It's made with heavy-duty porcelain with scratch and stain-resistant properties. The porcelain adds up to the lasting beauty as well as to the durability of the sink. Despite its small structure, it has ample deck space to hold all the essential toiletries.  However, the sink comes in a single color only which can be a downside as it may not match with all kinds of bathroom design.
The sink features a pre-drilled center set faucet holes and overflows to prevent any water damage. The compact dimension of the sink makes it perfect for small to mid-sized bathrooms. It's has a minimalistic design that ensures that you don't have to compromise functionality at all.
Pros
Durable construction
Compact and innovative design
Sufficient space on the deck
Made with high-quality porcelain material
Pros
5. Foremost Series White Pedestal Combo Bathroom Sink
The Foremost Series pedestal sink is the most modern pedestal sinks for small bathrooms you can find in the market. It can make the bathroom look very exquisite and elegant despite its tiny size.
It's rectangular in shape and comes with clean lines, along with a stair-step design. It's equipped with a raised back. This back helps prevent water spillage along the wall. It has pre-drilled faucet holes. They have a 4-inch center set spacing.
On the back of the basin, there's a 2-hole overflow control. The sink can project 15-inches only into the room; which makes this an ideal solution for compact bathrooms. Since it has a built-in rim around the entire sink, it can easily prevent water from spilling onto the floor.
So, if you're looking for a stylish sink that can easily enhance the compactness of your bathroom, then you should look no more. This is the one that is effective in increasing the overall compactness of your bathroom. Overall, it's a budget-friendly solution for your bathroom renovation or a new construction project.
Pros
Rectangular shape
Stairstep design
Self-rimming
Back ledge
Pros
Can't be cleaned with abrasive cleaners
Buying Guide to Buy Best Pedestal Sink for Bathroom
Materials
Pedestal sinks are usually constructed from various kinds of materials such as metal, granite, stone, glass, ceramic, etc.
Metal: The most common metals used to make pedestal sinks include stainless steel, copper, brass, and cast iron. Among these metals, stainless steel is the easiest to take care of; since it's immune to corrosion. Others have the tendency to develop water spots when used continuously. Besides, some of them are really difficult to maintain.
Granite/stone: If you're looking for a pedestal sink that can work as a focal point in your bathroom, then you should look for one that's constructed from granite/stone. They're available in a wide range of colors and textures. They're durable and can easily resist scratches. However, due to their unique quality, they're quite expensive.
Glass: Glass pedestal sinks don't have the risk of breaking and shuttering. Though they're commonly used for vessel sinks, they can also work well as pedestal sinks.
Ceramic: Ceramic pedestal sinks can either be fireclay, porcelain, or China. They usually have a glossy finish. You won't face any problems cleaning and maintaining them. They're durable and can resist stains all at the same time.
Shapes
Pedestal sinks are divided into five main categories according to shapes; oval, round, rectangular, u-shaped, and square. If you're uninterested in buying any of these shapes, you can opt for specialty shapes. The shape you want to choose hugely depends on your personal preferences and the place you want to install it.
Number of Faucet Holes
The number of faucet holes on pedestal sinks varies from one to three. If the sink's equipped with a single faucet hole, then you'll find it with one faucet only. They feature a water control built in the spout. They're great for maximizing basin space.
Size
You should also consider the size of the pedestal sink you're going to purchase. In order to determine the size, you must think of several variables. Among them, the most important variable is the basin width. It's important that it fits in with space you're going to remodel.
Ease of installation
When you're going to install a pedestal sink in your bathroom, you'll have the option of hiding the plumbing or exposing it. If you want to hide the plumbing, you should buy a sink with a wider pedestal base, instead of a sleek one. They're incapable of helping you with that.
FAQ
Q) Why choose a pedestal sink?
Ans: With pedestal sinks, you can add a beautiful, elegant touch to your bathroom's décor. Some of them are covered in a smooth finish; which will allow you to clean it with many non-abrasive bathroom cleaners. They're capable of making the bathroom look larger. They can save you a lot of space. These are the reasons why one should choose a pedestal sink.
Q) How to measure for a pedestal sink?
Ans: In order to measure for a pedestal sink, you need to measure two things; the width and the length of the basin. You should start measuring the width from the back of a bowl up to its front portion. On the other hand, you need to start measuring the length from one side to the other inside the bowl.
Q) How to install a pedestal sink?
Ans: Before you install a pedestal sink, you must be aware of the plumbing position. First of all, you should turn off the water to the supply lines. After that, you should attach the back of the sink basin to the wall and install the faucet, and set the basin of the sink into the basin.
With the basin in place, you need to connect the trap with the supply lines. Finally, place the pedestal under the sink and bolt it to the floor and then bolt it to the wall.
Q) How to attach a pedestal sink to the wall?
Ans: When you're attaching a pedestal sink to the wall, make sure whether it's made of plaster or drywall.  If it's indeed made of those two materials, then you must reinforce it with some type of wood blocking between two studs. It'll work as the frame for your sink.
Q) Where to put soap on a pedestal sink?
Ans: Since pedestal sinks lack storage space, you should go for alternative options for putting soap. You should store liquid soaps using a tall, slender lotion bottle. If you have round balls of hand soap, you can store them in a small votive candle holder. Still, if you really don't have any space for putting soap, you should install a small shelf above the sink.
Q) What color pedestal sink should you choose for a modern bathroom?
Ans: If you're wondering what color pedestal sink you should buy for a modern bathroom, then we would recommend you to go for a copper color pedestal sink for a modern bathroom. These sinks will be able to fit right in.
Final Thoughts
Choosing the best bathroom pedestal sinks can be a daunting task as there are so many different styles and sizes. That's why we're here with our best bathroom pedestal sink reviews to remove the burden from your shoulder.
If you're looking for the overall best, then we would recommend you to go for the Foremost Series 1920 FL-1920-4W White Pedestal Combo Bathroom Sink and the KOHLER K-2359-8-0 Archer Pedestal Bathroom Sink for stylish looks. We hope our reviews of the best pedestal sinks for small bathrooms will definitely help you to make the right choice.